Conference Halls & Technical Equipment
The International Scientific Conference SGEM Vienna Green 2019 will be held in the one of the historical palace right in the heart of Vienna, the Palais Niederösterreich in the period of 09-12 December, 2019
The everyday Oral, Poster and Workshop sessions will be held simultaneous in several conference halls: The Landtagssaal, The Rittersaal, The Herrensaal, The Prälatensaal.
In this extraordinary imperial atmosphere, rich in historic glamour and luxury background, SGEM Conference team assures hi-tech facilities in all conference halls:
Laptop (MS Windows 10 Pro ® - MS Office: Word, PowerPoint, Excel);
State-of-the-art multimedia technology that guarantees a perfect flow at the highest level for all kind of presentations;
Wi-Fi Internet connection;
Laser pointer;
Additional wireless microphones (for questions/comments from the audience).
Note: If the Speaker needs some specific media device in addition, he must inform the organizers at least 4 weeks before the start of the conference.
---
SGEM Conference halls
The Landtagssaal

The Rittersaal

The Herrensaal

The Prälatensaal
The Landtagssaal (Parlamental Hall)
The Landtagssaal is the centrepiece of Palais Niederösterreich. It features the largest continuous ceiling fresco in Austria, the scagliola and its Baroque-style ambience. It is equipped with the latest technical equipment. It offers room for conferences attended by up to 220.
---
Dimensions: 346 qm
Capacity: 325 seats
Cocktails: 340 guests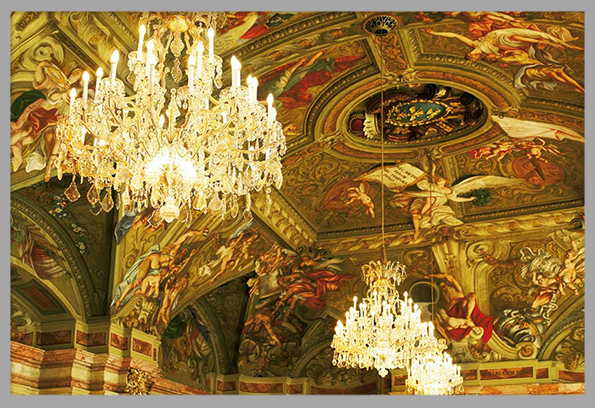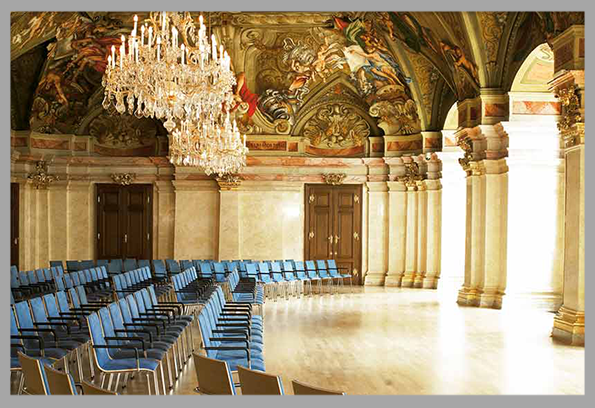 The Rittersaal (Hall of Knights)
Richly decorated with gold, the justice throne catches the eye from the moment you enter the Rittersaal. Wood-panelled walls and ceilings adorned with coats of arms complete the picture. This hall is ideal for presentations with up to 200 participants, stylish gala dinners or conferences.
---
Dimensions: 167 qm
Capacity: 140 seats
Cocktails: 150 guests
The Herrensaal (Hall of Lords)
Adorned with detailed marquetry and its prominent coat of arms, the wood ceiling is simply impressive. This is where members of the estate of lords once met to consult and make important decisions in small groups. The Herrensaal is often used for meetings or workshops even today.
---
Dimensions: 120 qm
Capacity: 100 seats
Cocktails: 120 guests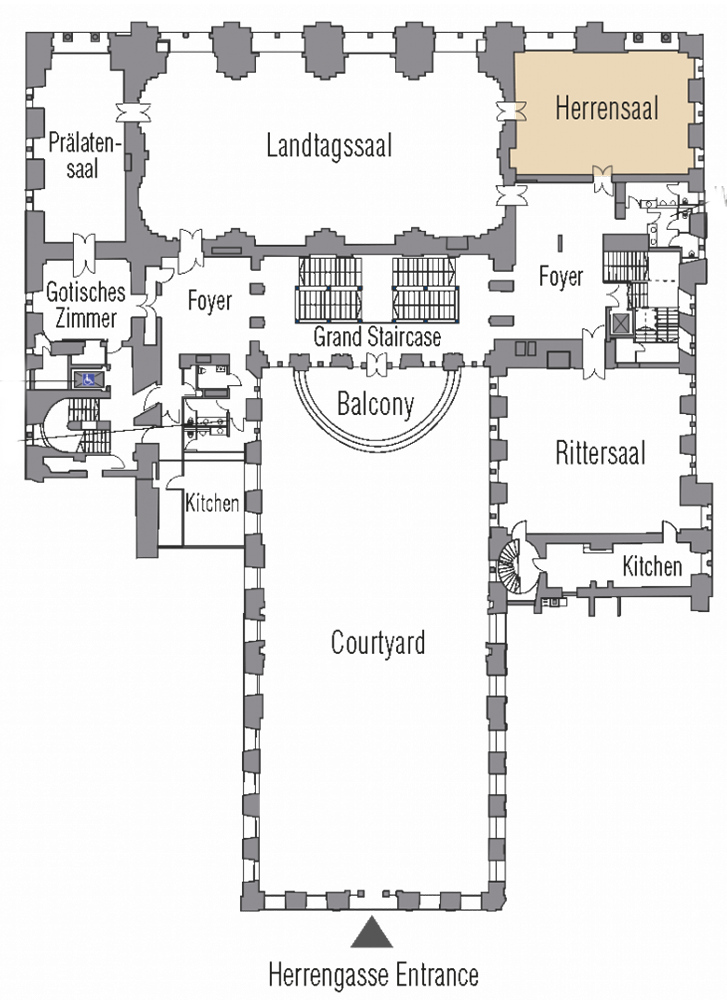 The Prälatensaal (Hall of Prelates)
The Prälatensaal may be the smallest stateroom in Palais Niederösterreich but that makes it no less impressive. The silk wallpaper and richly decorated wood ceiling make it one of the palace's small gems. It is especially suitable for smaller events when combined with the Gotische Zimmer – Gothic Room – and foyer in front of it.
---
Dimensions: 81 qm
Capacity: 60 seats
Cocktails: 70 guests