Certificate Awarding Ceremony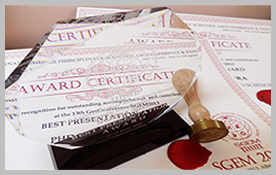 Every year, during an Official Award Ceremony, all speakers (Lecturer, PhD Student, Workshops or Invited Session Speakers) receive a Certificate of Attendance given personally by one of the Scientific Chairmen of the conference.
SGEM VIENNA GREEN CERTIFICATE AWARDS
During 3 conference days the audience is encouraged to give its vote to the best presentations by filling a respective nomination form. At the same time, session chairmen have the hard task to evaluate each presentation - they should fill in another evaluation form and forward it to the Scientific Chairmen. As a final result, authors of the highly evaluated and most nominated presentations are being awarded with a AWARD CERTIFICATE and a SPECIAL CRYSTAL PLAQUE.
We look forward to receiving your interesting papers and very captivating presentations. Eager to welcome you all, we are expecting with great interest your new researches and scientific achievements!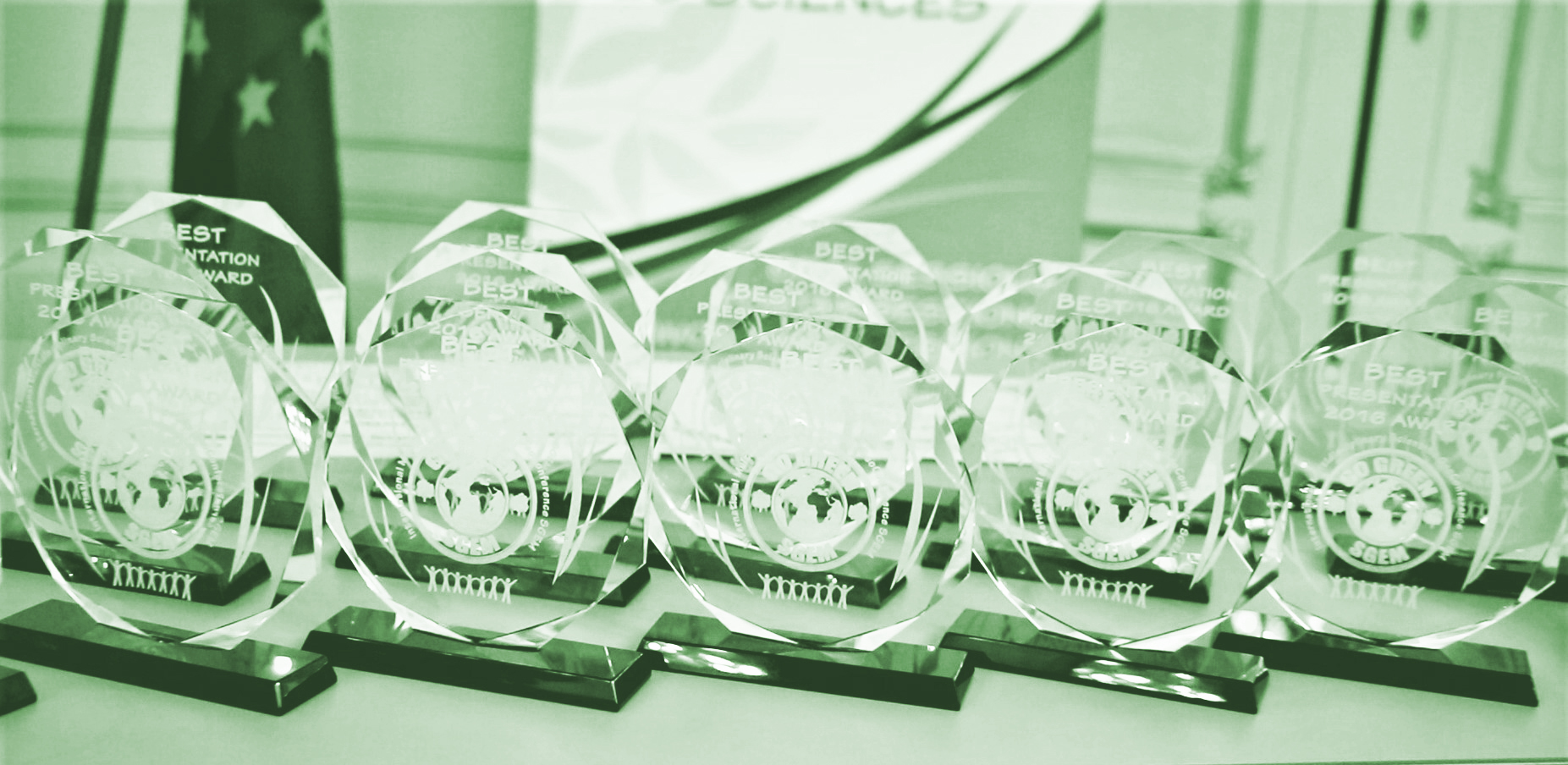 ---
SGEM Vienna Green 2019 Conference, AWARDED SPEAKERS
Palais Niederösterreich Congress Center, Vienna 09 - 12 December, 2019
PhD Ewa Knapik, AGH University of Science and Technology, Poland
Prof. DSc. Mikhail Lavrentiev,    Novosibirsk State University, Russia
PhD Vaclav Nedbal,    University of South Bohemia in Ceske Budejovice, Czech Republic
PhD Igor Wachter,    Faculty of Material Science and Technology in Trnava STU in Bratislava, Slovakia
PhD Angela-Petruta Constantin,    National Institute for research and development for Earth Physics, Romania
PhD Carla Zarbà,    University of Catania, Italy
PhD Anca Placinta, National Institute for research and development for Earth Physics, Romania
PhD Pavel Dobes,    VSB-Technical University of Ostrava, Czech Republic,
PhD Alexandru-Mihai Gagea, Technical University of Cluj-Napoca, Romania
PhD Piotr Handzlik,    AGH University of Science and Technology, Poland
Assoc. Prof. Ligia Moga, Technical University of Cluj-Napoca, Romania
Miss Klaudia Kobolova,    Brno University of Technology Institute of Forensic Engineering, Czech Republic
PhD Cristian-Dragos Obreja,    Dunarea de Jos University of Galati,    Romania
Miss Olga Kavkaeva,    Kuzbass State Technical University, Russia
PhD Veronica Gagea-Manitiu, Technical University of Cluj-Napoca, Romania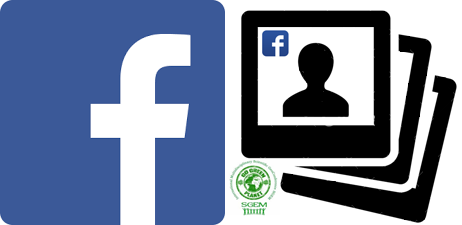 ---